Cycle Terminal
OEM Sumitomo .025 ECU-ECM-PCM Connectors
View Cart
This 33 pin Sumitomo connector was used for many of Honda's later fuel injected models from mid 2000's to Present.
Including some of the CBR250, CBR600, CBR1000, CBR1100 and late model CRF250, CRF450, VT750 and VT1300
Economy - Micro Open Barrel Crimp Tool
For JAE 040, Metri-pack GT150, Sumitomo 090 - 040 Terminals, Insulation and Wire Seals 16 - 30 AWG
Made in USA by Rostra
I have used this and you can get factory quality crimps with it. This tool does the wire crimp, then the insulation or wire seal crimps in 2 steps.
If your not doing this type of crimping all the time, great tool to add to your box, and you cant beat the price. Pick up a few extra terminals to practice with.
These will not do Bullet terminals, or 110, 250 standard terminals
$33.95 each ECT47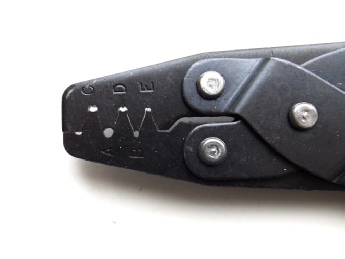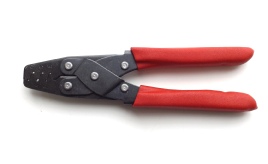 Add to Cart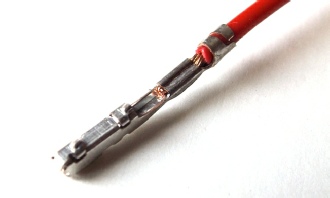 This crimp was done with this tool listed

Using dies B and E
About Me
Kits
Crimp tools
Terminals
Relay kits
Relays
Shipping
Fuse box's
Tubing
Fuses
New Items
Connectors
Home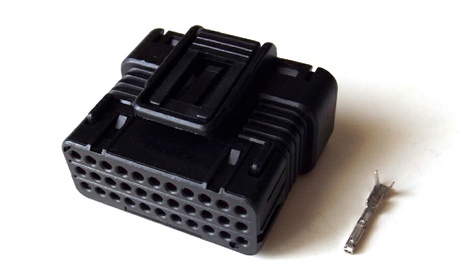 Honda ECU/ECM 025 33 pin Connector
For Some PCM-ECM-ECU and electronic control units
Japan
Comes complete with 20 - 22 awg terminals
Wire seals incorporated into the housing, Front and Rear Caps
Honda - 33 pin Female Housing Black - $7.95 each
Some Applications include
Some 2011-2013 CBR250 ecu/ecm connector
Some 2007-2013 CBR600 - ecu/ecm connector
Some 2006-2011 CBR1000 - ecu/ecm connector
Some Late model CRF250 -ecu/ecm connectors
Some 2009-2014 CRF450 - ecu/ecm connectors
Some 2010-2013 VT750 - ecu/ecm connector
Some 2010-2013 VT1300 - ecu/ecm connector
Some 2013-2015 ZX6R - ecu/ecm connector
Some 2012-2015 Z800 A/B - ecu/ecm connector
Some 2012-2015 Z800 C/D - ecu/ecm connector
Some 2010-2015 Z1000 - ecu/ecm connector
Some 2011-2015 Z1000SX/Ninja 1000 - ecu/ecm connector
Some 2006-2007 CBR1000 SC57 HRC KIT- ecu/ecm connector
Add to Cart
Honda 33-pin Sealed ECM Connectors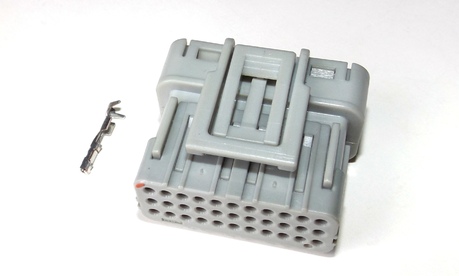 Honda ECU/ECM 025 33 pin Connector
For Some PCM-ECM-ECU and electronic control units
Japan
Comes complete with 20 - 22 awg terminals
Wire seals incorporated into the housing, Front and Rear Caps
Honda - 33 pin Female Housing Gray - $8.45 each
Some Applications include
Some 2007-2013 CBR600 - ecu/ecm connector
Some 2006-2011 CBR1000 - ecu/ecm connector
Some 2010-2013 VT750 ecu/ecm connector
Some 2010-2013 VT1300 ecu/ecm connector
Some 2013-2015 ZX6R - ecu/ecm connector
Some 2012-2015 Z800 A/B - ecu/ecm connector
Some 2012-2015 Z800 C/D - ecu/ecm connector
Some 2010-2015 Z1000 - ecu/ecm connector
Some 2011-2015 Z1000SX/Ninja 1000 - ecu/ecm connector
Some 2006-2007 CBR1000 SC57 HRC KIT- ecu/ecm connector
Add to Cart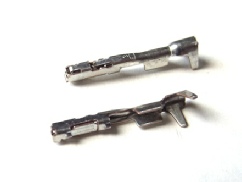 ECU 025 Female Terminal
.3 - .5 mm (20-22 AWG)
$0.15 each
025 Female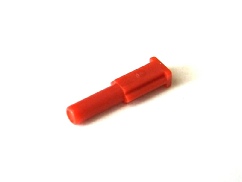 Empty Cavity/Dummy plug
$0.12 each
025 plug
Add to Cart
Add to Cart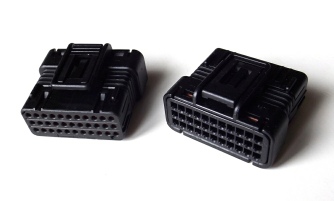 21-pin Sealed ECM Connectors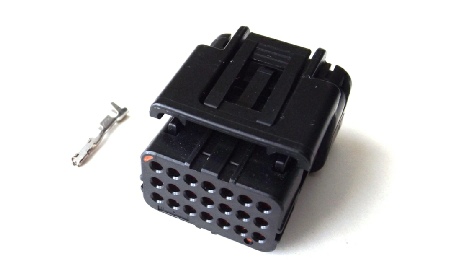 ECU/ECM 025 21 pin Connector
For Some PCM-ECM-ECU and electronic control units
Japan
Comes complete with 20 - 22 awg terminals
Wire seals incorporated into the housing, Front and Rear Caps
ECU - 21 pin Female Housing Black - $8.35 each
Some Applications include
Some 2012-2015 CBR Antilock brake unit - ecu/ecm connector
Some 2013-2015 ZX6R - ecu/ecm connector
Some 2012-2015 Z800 A/B - ecu/ecm connector
Some 2012-2015 Z800 C/D - ecu/ecm connector
Some 2010-2015 Z1000 - ecu/ecm connector
Some 2011-2015 Z1000SX/Ninja 1000 - ecu/ecm connector
Some 2006-2007 CBR1000 SC57 HRC KIT- ecu/ecm connector
Add to Cart