Cycle Terminal
Motorcycle Headlight Relay Wiring Harness Kits for Motorcycles, Gives you Maximum lighting output, fits Most Makes and Models
View Cart
These are high quality Fog Lamp, and Headlight relay Kits, Plug and play, super clean looking, a few different styles to chose from. Hi Quality super light sealed Panasonic EW relays manufactured in Japan, Hi temp flameproof sleeving, Cross-linked 14 and 16 AWG wiring, 15 amp Mini ATM Bussmann fuse, and Removable holder to add to the ease of install.
All you need to do is, run the harness, connect your H4 headlamp connectors, secure the harness, and connect the battery cables. No more voltage drop through the handle bar switches or under-sized wiring, Giving you maximum lighting output at the bulb. Can be made to order to your specs. Comes with plenty of wire ties to secure the harness.
Keep checking back for links on How to's, Wiring Diagrams, and other great information.
If you have any Questions, please feel free to Email me at: Joe@cycleterminal.com
Headlight Relay and Harness Kit for Mounting Relays inside the Headlight Housing
All quality components, totally plug and play, super light and reliable. This Kit Relays Mount in the Headlight.
Main leads are 61" Inch's long.
H4 Connector lead is 7" inch's.
Removable fused battery cable for easy installation through the headlight housing.
you get 10 wire ties to secure the harness to the bike.
Remove your headlight lens, run the battery cable through the housing, and properly secure the harness to the frame, leaving plenty of cable for the handle bars to turn completely in both directions, find a nice spot in the housing to secure the relays and the base of the harness, plug your existing H4 headlight connector into the male connector, and the H4 Headlamp connector to your headlamp bulb, hook up your battery cables, and your good to go.
Horn Kit
Special hard to find wiring harnesses.
If there happens to be something you need for a restore, and cant find it, please ask. I can fabricate anything such as headlamp harness and connector with pig tails for old Suzuki's and Kawasaki's, just about anything, as long as you can provide me with some pictures, and connector configuration. Just Email me at Joe@cycleterminal.com with details.
Voltage drop and Headlight output: Decreases lighting output by as much as 20%
Near a bulb's working design Voltage, a drop of only a half of a Volt results in a halogen bulb producing much less light. Many bikes have shown a 1 or even 2 Volt drop at the bulb, and I have confirmed this on my own Bikes. And this is also on new or like new Bikes.
After installing my relay kit, you will have a drop of ~.1 Volt, That's 1/10th of a Volt in case you miss the decimal. There is always going to be some Voltage drop, This is normal with any switch contact. But this is about the minimum possible. This low Voltage drop is the proof that the system is a good one. All the wiring, connectors, and components are working as they should.
Headlight and Starter Switch's
Headlight switches and starter (this is how your headlight turns off when you hit the starter button) switch's are usually a weak part of a bike's electrical system. Even with a stock 55/60 watt bulb, headlight switches and connectors can break down early in a bike's life. This is because ALL of the electricity that goes to your headlight bulb is passing through those little switch contacts in your handlebar switch units. Note: Some bikes do actually come with headlight relays, but the number is few. Even on newer Bikes.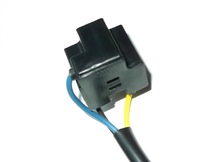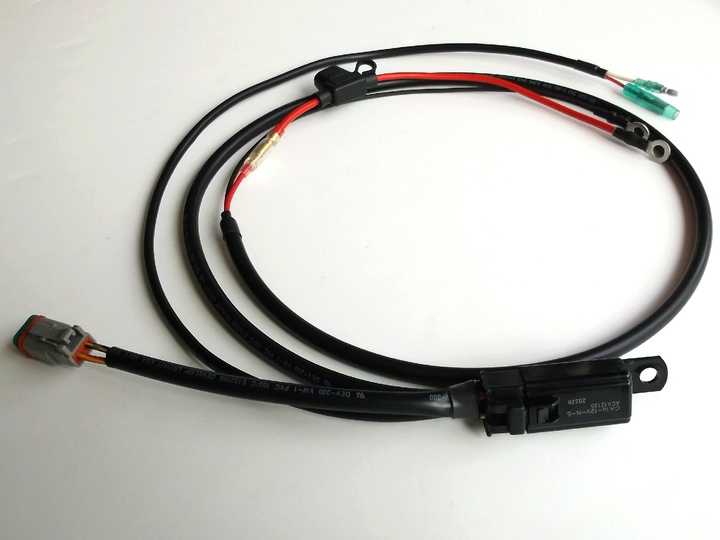 Aux Fog light Relay Harness Kit for Rigid Industries LED Light Bars - More options to chose from coming soon.
All quality components, totally plug and play, super light and reliable. This one is mounted behind a windscreen or fairing.
This unit comes with 52" Inch main battery leads, 15 AMP fuse, Amphenol-Deutsch female 2 pin connector, and 24 inch switch leads with 4mm bullet terminals. (You can get any type of Switch terminals that You Need, .187 or . 250 spade, 4mm bullet terminals.)
and 8 wire ties.
RILRK1 $29.45 each
Add to Cart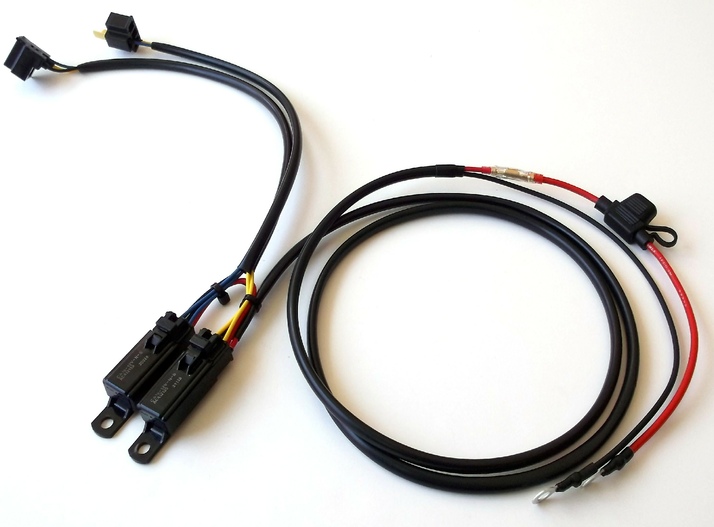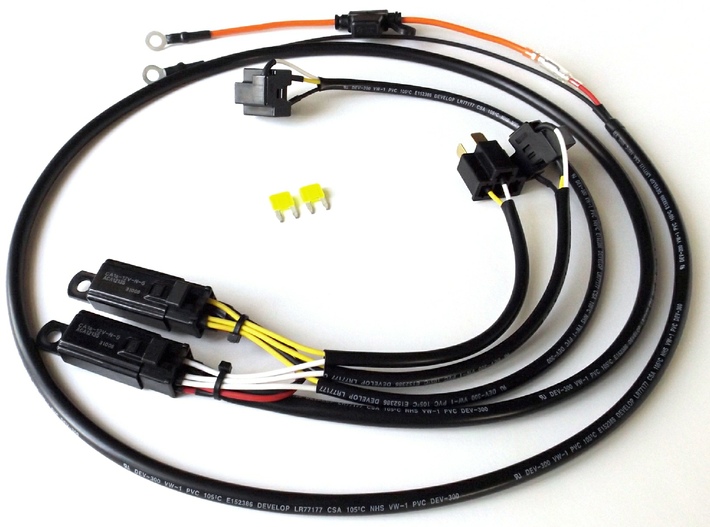 Headlight Relay and Harness Kits - For Most Motorcycles
All quality components, totally plug and play, super light and reliable. The easiest way to get more out of your lighting, I had a full 2 volt drop at the headlight on my Wife's bike, and 1.6 volt drop on my 98 ACE. That Voltage drop can not be measured in Millivolts .05mV (about a 20th of a Volt)
2 x High Quality Panasonic EW Micro relays, under rated at 20 AMP's for long life and reliability, manufactured in Japan.
2 x 15 amp (20 amp Dual H4's) Mini ATM fuses.
14 awg main leads from the battery to the Relay's, Hi temp flameproof sleeve, Cross-linked Wire insulation.
and you get 10 wire ties to secure the harness to the bike.
Headlight functionality will operate as it did before adding the harness.
Only now you will have More lighting for the road, and be more visible to other motorist.


Options Available for Most Harness Kits - Choose these before adding to cart
H4 Headlight Socket Type
Standard, or Ceramic
Battery Cable Lead Length - Makes for clean install when running harness to the battery from one side or the other (For the Ring Terminal Option only)
Equal Length
+6 inch's Positive Cable - (Can be seen on the Dual H4 Fairing Mount Harness Below) Mains leads will still be 62" inches in length to the Longest cable end. +6 inch's Negative Cable
Battery Cable Connector Option
Ring terminals with removable Fuse Holder - Thick 6mm Tin plated Battery Ring Terminals
3 Circuit Fuse Box Connector - plugs right in to the 3 Circuit Fuse Box, Comes with YC250 2 pin Male Connector (Main leads are 56" inch's with this option)
3 Circuit Sealed Fuse Box Connector - Comes with Amphenol AT 2 pin Male Connector (Main leads are 56" inch's with this option)
If you have any Special Request for lead length, Please Email me, or leave message during Check out.
It Can be custom made to your dimensions. Need a Honda Headlight relay harness? Seen the Gonzo hydra harness? well check this out!!
Headlight, Fog lamp, Horn relay kit,and Accessory relay setups are available as well.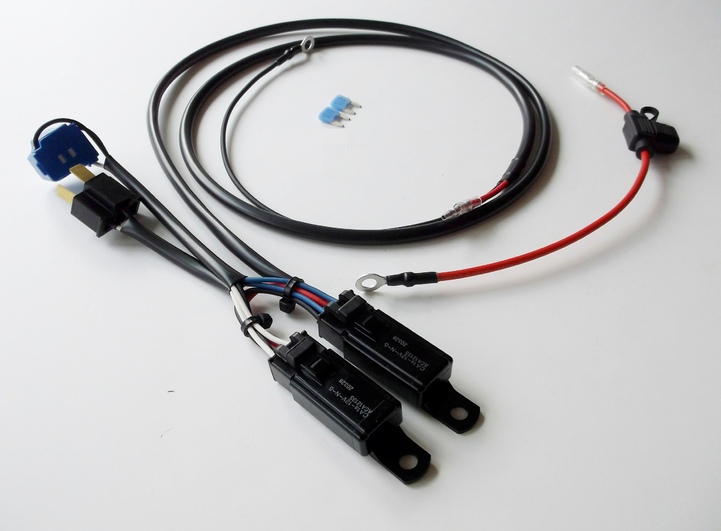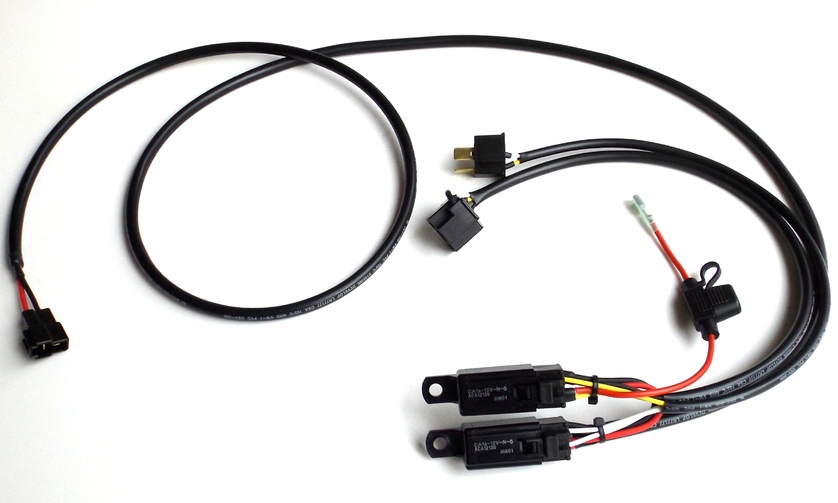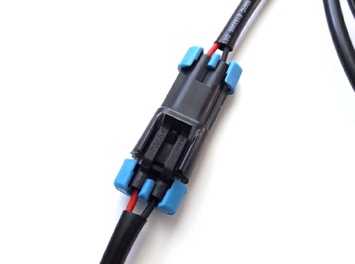 Quick Disconnect option for fairing mount types.
Quick disconnect option for fairing mounted relays
Allows you to remove the Fairing without having to disconnect or remove any part of the
relay harness from the bike, in most situations.

Heavy duty MP280 connector is added 4 inches below the relay on the battery leads.

MP280 FMRH-QC $3.95


If you would like this option.
This Needs to be added to cart when purchasing the one of the above two fairing mount harnesses.

To be used with the above two harnesses only!
not an option for the Housing mounted kit


Add to Cart